Frank & Melanie
Rick Raanes helped my husband and I find our home in Cypress, Texas. With's Rick's extensive knowledge of construction, he pointed out potential problems with houses. We felt that instead of rushing us into the wrong house, Rick was very patient with finding us the perfect home for us.

A year later, we got transferred and asked Rick to sell our house. With his professionalism and enthusiasm, it was a no brainer to ask for his help again. With the difficult market, the first buyers did not qualify for a loan. My husband and I already relocated out of the state, so we left an empty home. Rick took care of getting us lawn care, pool care, and he arranged some pool service. We would have had to fly back to take care of these things, but Rick offered to take care of our house in our absence. We are so appreciative of Rick's kindness, patience, and expertise as a realtor and a friend.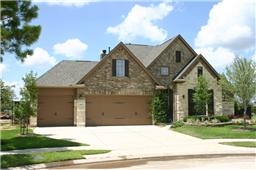 ---
Paul and Meg
Rick has been an outstanding agent for my wife and I. He's helped us through two transactions so far and we couldn't imagine using any other realtor.
Our last transaction was selling our home. The house went on the market a week after Hurricane Ike, 3 weeks later the stock market crashed and we still sold our home by Thanksgiving. He calmed us down when we needed it, provided great advice that we took in getting our house ready for market and did all the little things that make a huge difference when selling a house. We sold in a difficult housing environment and get the money out we wanted. All because of Rick's efforts and strategy.
I've always found Rick to be an honest and fair minded man and can't wait to do business with him again.
---
---
Ryan and Valerie
Rick always goes above and beyond his duties as a realtor. When we purchased our home, he was honest, and always kept our best interest at heart, even if it meant passing on a good number of houses before we found the perfect one for us. He was so knowledgable about all the different neighborhoods and schools, and was an invaluable part of our decision making. He made the home buying process a very pleasant experience. Good, honest, realtors who put your interests first are hard to find, and we were lucky enough to find one in Rick! Next time we buy a house, we are definitely going with the Rock Star!
---
Jim & CJ
"Rick was GREAT, we never had a single problem with our communications with Rick, we look forward to our next deals with Rick. It is a pleasure to have someone to work with you and explain ever thing to you. He is indeed a blessing."